Pop star Katy Perry and "Avatar" actress Zoe Saldana don't exactly have the same tastes in fashion. Katy Perry prefers out-there ensembles, like the glow-in-the-dark gown she sported at the 2010 Met Gala, while Zoe usually opts for a more sophisticated and lady-like style. Last week, the "California Gurl" singer hit up Paris Fashion Week wearing the French label's white and gold long-sleeve mini with strappy sandals, a box clutch and her bright blue hair, natch. Katy inserted foot into mouth when she described her look as "Vegas hooker." Oops, faux pas!
Recently, though, their closets collided when the two stepped out in very similar versions of a gold-and-white Balmain Spring 2012 mini dress just seven months apart. Now it's up to us to decide who wore it better! Back in August, fierce fashionista Zoe rocked the same Balmain dress in gold with white accents to the Colombianascreening in Miami. Only, she left the neckline open down to her belly for a supersexy look, and added a white train and strappy black heels.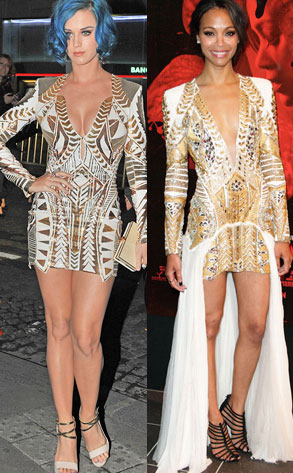 Katy Perry, 27, wore the dazzling design during a dinner at Paris Fashion Week on March 1. The "Firework" singer paired it with strappy sandals by Christian Louboutin, a cream clutch, and the blue 'do she's rocked since mid-January.Zoe, 33, donned a slightly different version of the dress with a lower neckline and an elaborate white train while promoting the action movie "Colombiana" last August in Miami. The "Star Trek" star added strappy black heels and loosely pulled back locks.
Katy Perry vs. Zoe Saldana – Fashion
Before we pick a winner, let's get one thing straight: Katy Perry hair, while fun, is way too over-the-top when teamed with such a busy dress. Even she didn't seem to like the look much! When asked about it, the "California Gurls" artist said: "It's either Vegas hooker or Balmain. It's the first time I've worn them, and after they read this quote, it might be the last." Yeah, probably so. Fortunately for Katy Perry, her competition also went overboard with eye-catching accessories such as the train and shoes. Zoe simply couldn't make it work. So I'm going to squint my eyes, pretend Katy Perry hair is back to black, and call her the winner.